Quote:

"Keep your face to the sunshine and you cannot see the shadow."

-- Helen Keller --
"Live life as it should be,
See with the eyes of a child,
Hear every beat of life ,
Feel from deep within the heart
And smell the breath of love and life every second of the day."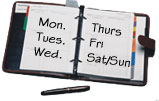 Date: October 31st, 2001

I got a song from Anderson. It's an old song, "All I wanna do is make love to you".
Anderson sang this song to me once when he was in Malaysia. Well, he didn't sound like the original singer but I guess it was okay, at least it's better than a frog croaking (don't get offended, Anderson).
It's a pretty song with meaningful lyrics and a good tune. I remember once when we went on a trip, I was playing a compilation of love songs. Anderson got so fed up with it but he did like one of the songs, "Said I loved you but I lied".
There was another song by Heart which I also like "What about Love". There is a quote by William Faulkner,

"Perhaps they were right in putting love into books ...
Perhaps it could not live anywhere else."
Perhaps that is true and perhaps the love they talk, the love that conquers all, about how much they would give for love only belongs in songs and books ... it's sad if that were true but there are people around with true love, it's happening so often around the world but for some, they believe it impossible but they don't realise that the barrier to true love and happiness is themselves.