Quote:

"To see her is to love her,
And love her but forever,
For nature made her what she is,
And never made anither! "

-- Robert Burns --
"Live life as it should be,
See with the eyes of a child,
Hear every beat of life ,
Feel from deep within the heart
And smell the breath of love and life every second of the day."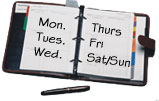 Date: September 28th, 2001

I made Anderson upset yesterday. I know that the relationship we have may go two ways, one, a dead end and that is where we say goodbye and the other, a happy one where we can be together. The chances of the latter is pretty slim.
It's hard not knowing what will happen come the next day, week, month or year, whether the happy ending that I hope for will come.
Many of us don't want to know "maybe" or "we'll see" or "see how-lah" but we want to know how it is, at this moment in time.
People build castles in the air and dream and make plans, some subconsciously knowing that it may not happen. Couples plan a life together and the next thing they know they have parted and found new partners. Married people think they will be forever together until death do they part but in the blink of an eye, the fire has died and divorce papers have been sent.
Nothing is forever.