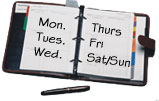 Date: August 10th, 2001

I worked overtime today and on the way home stopped by the bank and Domino's pizza to get something to eat. I was so hungry I could eat a horse! Gross exaggeration, of course.
On my way home, I was thinking of what next to upload that would be interesting. Sorry for not putting up some pictures but I would be doing just that in the near future (fingers crossed).
I miss my love a lot and it is hard not being able to be with him. So I would like to put up a few poems which I wrote about our relationship. I hope that would interest you and if at all you would like to comment on them or contribute, feel free to contact.
The first poem is "It's just You" about how I felt in his presence, how him being just him is what I love.
The next one is a sad one, titled "To the future, Sweet Heart" written 6 days before he left for Canada. He has been there almost two months 4 days now. Right before he left, I wrote "The Next Day" on how it would be without him.
We contacted each other frequently online and we quarrelled a few times (through ICQ and MSN Messenger). That was when I wrote a final poem to leave him but I never did send him that poem. Maybe I am just not ready to let go ...