Quote:

"Politeness costs little and yields much."

-- Mme. De Lambert --

Do not wait for an excuse to be polite and do not find a reason not to be polite ...
"Live life as it should be,
See with the eyes of a child,
Hear every beat of life ,
Feel from deep within the heart
And smell the breath of love and life every second of the day."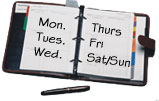 Date: August 25th, 2001

Today, the Production Manager called me into his office and asked me, "How are you? Are you happy?"
He asked me that question because if I found the work not satisfying, then I would be looking outside. True, what I was doing now was purely coordinating and administration, which he was was only a fraction of what I was supposed to do.Completing a production status form took me more than an hour. To top that I reprinted it at least 3 times.
He told me, my other colleague did the same too but she kept going in and out of his room handing him the form which she kept updating a few times.
Funny, filling in a form can be so defeating.
So what do I have today for you? Oh yes, a poem I wrote entitled, "My Fear". It's about fear of growing old. I'm sure many people have this fear too.
Hmmm .... do know that I live in a house with three guys? Well, it's actually two guys, one shifted out. It's quite nice living with guys.